The trulli are limestone houses found in the region of Puglia, which are beautiful examples of the ancient techniques of drywall construction that is still used today for houses in the region. The trulli are built from rough limestone rocks and boulders, usually domed or in a pyramid shape, which have been collected from nearby fields. The traditional Apulian stone houses or store rooms often have cone shaped roofs and this style of home is typical not only to Alberobelo, but also nearby towns. In the past these traditional structures were built without mortar or cement in order to avoid taxes and this style of building was so popular it is even reflected in the walls that surround the region and its countryside.
Construction of a Trullo
The roofs of a trullo house is constructed in two layers to ensure the structure is watertight. The inner layer is made from limestone boulders and it is capped by keystone, while the outer layer is made from limestone slab. The houses were often built directly into the ground in earlier times, however, the majority of the ancient structures that survive today were built on perimeter walls.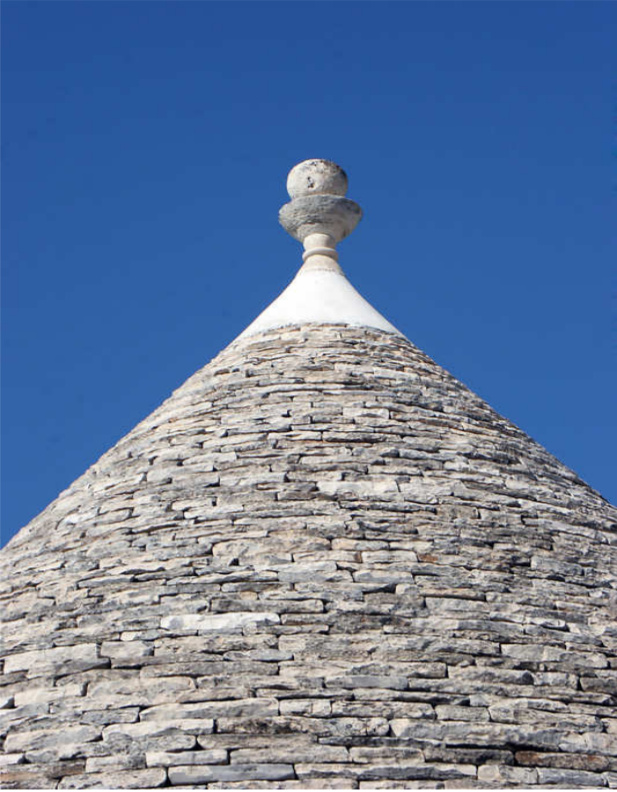 In the town of Alberobello there is usually a pinnacle on top of the cone roof of a trullo. This might have been one of several design chosen for ancient symbolic value and the cone also may have had symbols painted on it. Such symbols are believed to have included crosses, hearts, planetary symbols or the evil eyes. The walls of such houses are usually very thick so keep the inside cool during the summer and warm during the winter. In most cases these houses have one room under every conical roof. In houses where there are multiple rooms there are also multiple cones, one for each room. Children would generally sleep in an alcove built into the walls and covered with curtains. It isn't clear how the trullo design first originated. One of the popular theory is that the idea of dry walls may have been developed to avoid high levels of taxation on the property. Two of the most famous trulli in Alberobello are the Trullo Sovrano and the Trullo Siamesi.