Encounter and Engagement – Adventures in Language
~Margaret Lois Jansen
"Encounter" and "engagement" describe my hopes and focus in my Italian travels. I first experienced Italy in 2008 when I was teaching at Marian University as part of the Franciscan Pilgrimages program. Although my language skills at that time were limited to brief polite phrases, I had several encounters with folks in Assisi where we spent most of our time. And, I fell in love with the country. I promised myself that I would return (coins in the Trevi fountain, yes!), and that I would learn Italian so that it would be possible to move beyond smiles, hand gestures, and mumbled phrases so as to understand more of the people and place.
Time passes and after several failed attempts at the language, I found a course that opened some doors so that when I was finally able to return in January 2020, I had more than a few phases in my language bank. In addition, I had met Silvana and we had had some lengthy conversations where she helped with my pronunciation and fueled my enthusiasm for experiencing Italy again.
My sister and I landed in Firenze in January 2020 right before Covid exploded (the borders closed three days after we returned to the U.S.). She was well-acquainted with the city having spent a summer there at a culinary school. I was fascinated both with the history and the art and spent the two weeks wandering Firenze, visiting museums, and making memories. As far as language goes, I was apparently understood as folks responded in Italian when I would speak. At that point I learned a lesson: being able to read the museum explanations, signs, and knowing how to say a few things does not mean that one understands spoken speech! So, while folks seemed to understand me, I did not understand them.
In our "walking Firenze" my sister and I made the acquaintance of a young Muslim woman who owned one of the many small leather shops that dot the streets. We have stayed in touch through Facebook. This encounter has matured into a friendship that has blossomed in my return visits in the fall 2021 and February 2022 to Firenze.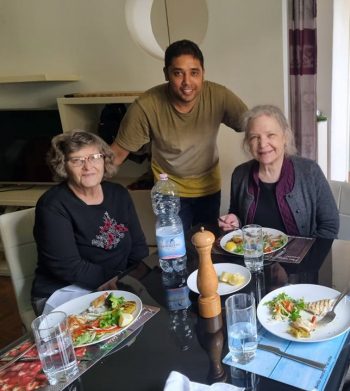 The intention of the trip in late August into September 2021 was both for language instruction and a desire to encounter and engage ordinary people. The trip was almost "magical." Opportunities for conversation materialized almost out of nowhere. At breakfast at the hotel, a woman asked to sit with meand we spoke in Italian about our children. At a visit to Santa Trinita, the cleaning lady and I had a conversation about her work. On the tram, I met an 83 year old man who had immigrated to Italy 13 years ago. At a favorite restaurant from the 2020 visit (OK Osteria), I asked about the owner's dog, "Come va Bianca?" and a delightful conversation followed.
When I ventured out of Firenze to Fiesole for visiting the Etruscan ruins, I was able to ask questions of the museum staff. On another adventure to Pistoia, I took a taxi out of the city to the Zoo. Only…at the end of the visit did I realize that there were no taxis at the Zoo to return me to the city center. At the small gift shop, I asked the clerk in Italian if she were able to call a taxi for me. Her smile told me that she appreciated this opportunity to help me, and she was visibly delighted that we spoke in Italian.
The visit to Orvieto was a highlight of this trip. After getting off the train, one takes the Funicolar up the mountain and then a bus to the city center. The beauty of the place simply overwhelmed me and, after spending some time in the Duomo, I only walked the city streets in pure fascination. At lunch at a small restaurant, I only heard Italian. Rather than take the bus back to the Funicolar, I walked down and found a lovely city park with marvelous views of the countryside. On another trip, my friend from Vinci and I met up and traveled to Arezzo. We mixed the conversation with both English (which she is mastering) and Italian.
In February 2022, I landed in Rome and took the train to my beloved Assisi where I spent six days by myself and re-acquainted myself with the many ins and outs of the city as well as the places I had visited in 2008. This trip was a matter of the heart and it did not disappoint as I spent time at each of the religious locations in the city. On day seven, I returned to Rome to meet my friend Helen at the airport and we returned to Assisi together on the train.
Again, having some grasp of the language and being able to understand the responses of folks brought smiles to the eyes of the folks we encountered, especially restaurant staff. In one small restaurant in Assisi, a gentleman came in and the woman behind the counter wished him a happy birthday. On my way out, I also wished him the same. He was most pleased and commented with laughter to the woman behind the counter, "Capisce italiano!" On the other hand, on one walkabout, as I came around a bend, I saw one woman speaking to a gentleman and overheard, "Lascio mio marito." At that point, I took the route around the corner!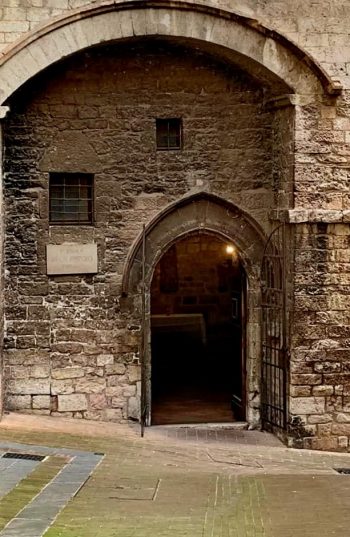 In Assisi, one says, "Buongiorno" or "Buona sera" depending on the hour of the day to the folks that one passes by in the streets. Sometimes, folks will stop and begin a conversation, tell you the name of their dog, comment on the weather, or point out something of interest.
One of favorite stories occurred at the end of a meal in a small restaurant near San Rufino. A family sitting near me had a son, about twelve, maybe, who was quite active. On getting up from the table, I nodded to them and that opened a conversation in Italian. Upon learning I was from the United States, the mom encouraged her son to speak in English with me ~ and he was quite proud to do so.
There is a small almost open-air museum in Assisi, "Museo D. Constantini Arti e Mestieri dell'Umbria", that sits at the end of a walk along the city walls beneath Santa Chiara. While the items in the museum are unprovenanced, they represent items from the Middle Ages through the late 18th and 19th centuries that people used in their ordinary lives ~ just fascinating. Being able to converse with the older gentleman who walked with us through the exhibits made my day…and from his response, his also, as we examined the agricultural, household items, and documents.
Towards the end of our ten days in Assisi, Helen and I ventured down to San Damiano and at the end of the visit decided to walk to Rivotorto through the countryside, thinking that after the visit to the church we would grab lunch, walk to Santa Maria degli Angeli and take the bus back up to Assisi (and, if one does this, one gets off at the top of the city at Piazza Matteotti to walk down because, otherwise, it is all uphill on steep streets). Only, as we discover, there are no restaurants in Rivotorto…a bar, yes, but we were looking for lunch and it was getting late. Although it takes about a half hour to walk from Rivotorto to Santa Maria degli Angeli, we did make it in time for enjoying a wonderful meal. Another highlight was the opportunity to book a taxi for the day for trips to the Carceri (the hermitage of Francis above Assisi on Mt. Subasio), a ride around Mt. Subasio, and visits to Copellino, Spello, and LaVerna.
After Assisi, Helen and I then took the train to Firenze so that she could enjoy even briefly this beautiful city. My sister had been there since January doing a refresher course at the culinary school she had attended earlier and met us for dinner at the OK Osteria. Perhaps the highlight was when Nasrin and her husband invited all of us to their home for dinner. There is something about connections that memorializes a trip like this. In addition, my friend from Vinci came to Firenze and we all enjoyed lunch together.
At this time, the next venture is in October: a few days in Rome, a day in Assisi, a few days in Orvieto, and a few days in Firenze. I am grateful that what was once a barrier, the language, is opening up more and more and makes for a deeper and more down to earth experience. I think it is also in intention ~ if one wants to engage, the opportunities come in small ways, in chance meetings, in the humility and willingness to try. When I make errors, I am grateful for the corrections and the laughter that ensues which creates even more chance for conversation. I have felt the warmth of appreciation from the people I have met in Italy and it has grown deeper each time.