Book Club – Columbus, the Four Voyages, 1492-1504 by Laurence Bergreen
October 16, 2019 @ 8:30 am

-

8:00 pm

EDT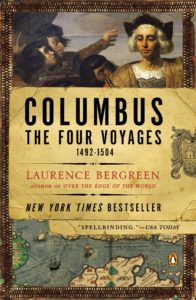 October is Italian American Heritage month, so we will read a new biography of Christopher Columbus' legacy, which is being hotly debated. Our reading this book will bring about interesting discussions as we learn of actual circumstances and the consequences that befell Columbus during his four voyages to the American continent.
Book: Columbus, the Four Voyages, 1492-1504
Author: Laurence Bergreen
When: Wednesday, October 16, 12:30 pm
Where: Indianapolis Museum of Art (Newfields)
He was a self-promoting and ambitious entrepreneur. He knew nothing of celestial navigation or of the existence of the Pacific Ocean. His maps were a hybrid of fantasy and delusion. When he did make land, he enslaved the populace he found, encouraged genocide, and polluted relations between peoples. He ended his career in near lunacy. But Columbus of the sea. of wind and weather, and of selecting the optimal
course to get from A to B. Laurence Bergreen energetic and most importantly, the whole of his career.
The book is available from the library and area bookstores and the usual internet sites with many used copies available at reasonable prices. All interested members and friends of IHSI are welcome to join us for lunch, the lecture and discussion.