IHSI 30th Annual Chapel in the Meadow, Mass and Picnic
September 8, 2019 @ 7:00 am

-

10:30 am

EDT
 Italian POW Chapel in the Meadow at Camp Atterbury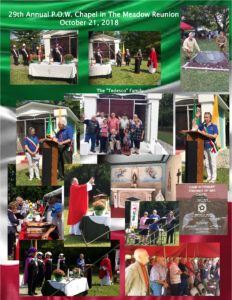 Join IHSI for 30th Annual Celebration of  Mass & Picnic
11:00 a.m. Presentation of Colors Ceremony and Mass  
The Picnic will  follow nearby, bocce and games are planned.
Members are asked to bring a side dish or dessert to share.
A main pasta dish will be provided, as well as water, plates, napkins, cutlery.
Mario Vian will chair the event. The mass at the chapel is always a poignant and solemn occasion followed by good camaraderie and good food. We hope you will make the drive to the Chapel and participate in this IHSI event, which has such a historic significance. This will be an opportunity to see the chapel, part of the existing camp and the camp museum, all significant aspects of our state and national history.