IHSI Cinema Sunday Series – La Dolce Vita
March 24, 2019 @ 8:30 am
EDT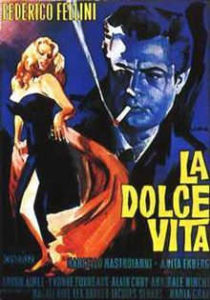 La Dolce Vita (1960) 174 min;
Comedy; Drama; NR
The biggest hit from the most popular Italian filmmaker of all time. The film catapulted Federico Fellini to international mainstream success, ironically, by offering a damning critiques of the culture of stardom. A look at the darkness beneath the seductive lifestyles of Rome's rich and glamorous, the film follows a notorious celebrity journalist during a hectic week spent on the peripheries of the spotlight.
Admission includes dinner; member $18.00, non-member $25.00 pay at the door, cash only. For more information and to reserve your spot contact Ray Brown at ray.e.brown@sbcglobal.net or Mauvene Borton at elan_vital928@hotmail.com
A brief discussion will follow the film.
Please note: This schedule is subject to change and is dependent on
the facility availability; update will be email if this occur.