IHSI Cinema Sunday Series – Moonstruck
February 17, 2019 @ 7:30 am
EST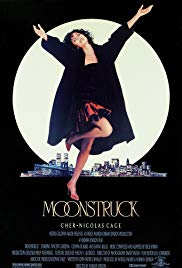 Moonstruck (1987)
102 minutes; PG-13 Comedy, Drama, Romance
A superstitious Brooklyn widow is ready to get married again. Only this time, she plans on doing right—even if she has to say "yes" to a man she doesn't really love. When she unexpectedly falls in love with her fiancé ' estranged brother Ronny, what happens next is a wonderful romantic complication. It was nominated for six Oscars at the 60th Academy Awards, winning for Best Original screenplay, Best actress (Cher) and Best Supporting Actress (Olymphia Dukakis).
Admission includes dinner: members $18.00, non-members $25.00 pay at the door, cash only. For more information and to reserve your spot contact Ray Brown at ray.e.brown@sbcglobal.net or Mauvene Borton at elan_vital928@hotmail.com
A brief discussion will follow the film
Please note: This schedule is subject to change and is dependent on the facility availability; updates will be email if this occur.