Pasquetta
April 28, 2019 @ 10:00 am

-

1:00 pm

EDT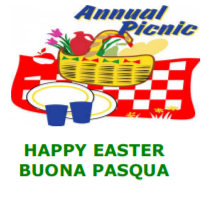 In case of inclement weather it will be held at Priori Hall at the church.
Each person attending is to bring a dish to share with other members. Beverages, plates and utensils will be provided by the Society.
Bring lawn chairs, bocce, there is a playground for the children.
Also accordionist Bob (Roberto) Klemm will play Italian music.
The traditional after Easter outing enjoyed by the Italians, is the perfect way to meet the Society's newest members and catch up with old friends. New members are especially invited to take the opportunity to meet the existing members at picnic style event.
BRING YOUR FAMILY AND FRIENDS
For information call:
Rina Piga 317-773-6442  catpiga45@gmail.com
Claudia Heck 317-797-2320  heckcc@aol.com