ST. JOSEPH TABLE DINNER
March 18, 2018 @ 12:00 pm

-

2:00 pm

EDT
ST. JOSEPH T ABLE DINNER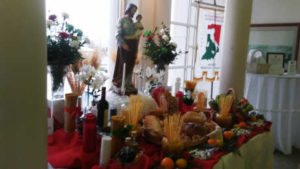 Why We Celebrate St. Joseph Day
Even though St. Joseph played a prominent role in the early life of Jesus. He was not a highly venerated saint in much of Italy until the late middle ages. Today St. Joseph's Day is celebrated all over the country, but more so in the south. The origins of the Italian American version of St. Joseph's Day most likely date back to Medieval Sicily when the saint was said to have answered the people's prayers by ending one of the island's legendary drought. Ever since, St. Joseph's day has been cele-brated with a large Lenten feast often served to the entire village (or multi-family meals here in Italian American communities) and an elaborate altar dedicated to the saint.
The St. Joseph Altar
The altar tradition plays a major role in the veneration of St. Joseph and is the focus of the novena (nine days of prayer) before the actual feast day. The altars take on many shapes, some forming a cross while others occupy a corner table or an entire wall. Most of these altars are broken down before or shortly after the dinner, but I recall growing up that some altars became permanent displays. These permanent altars however, became overgrown with statues and crosses, flowers, oranges and lemons during St. Joseph's Day. Other decorations found on the altar include candles religious medals, rosaries, prayer cards, fava beans and loaves of bread. Much of the altar, including the citrus fruits and breads will be given away to guests when it is broken down.
For more details, please contact Silvana Martini Schuster                                                       silvams@comcast.net or Cell: 317-833-0994