IHSI 2019 Fall Bocce League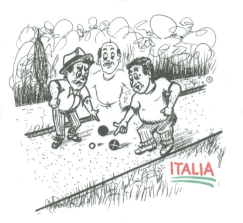 It's time for the beginning of IHSI Summer-Fall Bocce!
This year we are excited to announce the Italian Heritage Society of Indiana (IHSI) will offer 6-week sessions at the same time…as the Fletcher Place Bocce League (FPBL), IHSI* will run games on Monday & Tuesday evenings and FPBL games will take place on Wednesday & Thursday evenings for more information contact: vjdfab@gmail.com
*If you are interested in playing on Mondays or Tuesdays, please email Vince DeFabis at: vjdfab@gmail.com
*Note: we will have new scoreboards for the Fall League! (Say thanks to Jim Watts)
Email Emily Duncan at: fpblindy@gmail.com for information on Wednesday/Thursday night bocce.
Here are some highlights.
League: IHSI Bocce League
Location: Lacy Park – 700 Greer Street(corner of Greer and McCarty/Stevens Streets)
Dates: The (6 week) Fall Session will run on Monday & Tuesday evenings from 6:00 pm to 8:00 pm beginning July 29/30.
Teams:
League nights can accommodate 16 teams on each night.
All teams will be notified of their night of play, wait list, or other status, via email. 
The attached application should be completed and returned to: vjdfab@gmail.com no later than Monday, July 22nd.
All applications will be processed on a first come, first serve basis and teams will be notified of their night of play by Thursday, July 25th.