42nd Indy International Festival
November 7, 2018

-

November 10, 2018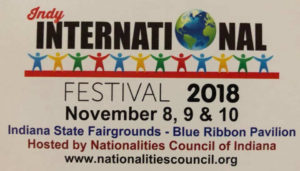 Ciao Amici,
The 42nd Indy International Festival is fast approaching!
Date: November 8, 9 and 10, 2018
Where: Indiana State Fairground Blue Ribbon Building
Hours: Thursday, November 8, 2018 9 am-5 pm
Friday, November 9, 2018 9 am-9 pm
Saturday, November 10, 2018 9 am-9 pm
Theme: Destinations Around the World
Set up is on Wednesday November 7th in the afternoon
This is a great opportunity to showcase the Italian Heritage Society of Indiana. We have a booth which needs to be staffed—a great opportunity for all of you to talk to interested young people about our favorite subject. ITALIA!!
So please give me a call if you can volunteer for a 2 hours shift or more.
We need to double our staff from 10 am to 2 pm on Thursday and Friday due to the large number of school children…..the busses arrive at 9:00 am.
You will be getting free tickets and parking passes for our volunteers,
so please sign up for work.
Grazie tanto, Thank you,
Ginny (Belletini) Koss phone 630-209-1362
Jim Koss 630-209-1562