IHSI Cinema Sunday Series – Il Postino
October 28, 2018 @ 8:30 am
EDT
Join us at Matteo Ristorante Italiano for Il Postino.
Address: 1351 West 86th St., Indianapolis
Date & Time: October 28 at 12:30 pm
Admission includes dinner: members $18.00, non-members:
$25.00 Pay at the door, cash only.
For more information and to reserve your spot contact Ray Brown at
ray.e.brown@sbcglobal.net or Mauvene Borton at
elan_vital928@hotmail.com
A brief discussion will follow the film.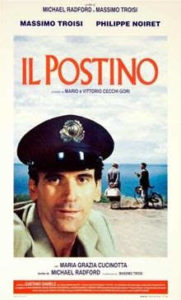 Il Postino (The Postman) (1995) 108 mi.; Michael Radford, Massimo Trosi; The Postman, Mario enlists the aid of the poet Pablo Neruda to conquer the heart of the beautiful Beatrice. Nominated for several Academy Awards in 1994, this beautiful film tells the story of a bored postman who befriend a famous poet and learns the art of romance. This was the star, Massimo Troisi's final film. He suffered a fatal heart attack, the day after completion. With fabulous cinematography that include the island of Procida, this a lovely way to spend a Sunday afternoon.
Join us!