Book Club – The House of the Medici: Its Rise and Fall by Christopher Hibbert
August 7, 2019 @ 8:00 am
EDT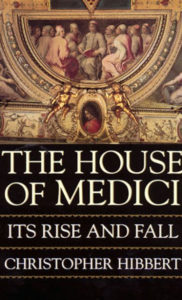 The Medici family first attained wealth and political power in Florence in the 13th century through its success in commerce and banking. Beginning is 1434 with the rise to power of Cosimo de Medici, the family's support of the arts and humanities made Florence into the cradle of the Renaissance. A must read.
"A superb introduction to the history and arts created by one man's greed."
Join us at Anthony's Chophouse on August 7th at noon to dive into this great work.